The State of the Nose: Rhinoplasty in 2017
The State of the Nose: Rhinoplasty in 2017
By Dr Darryl Hodgkinson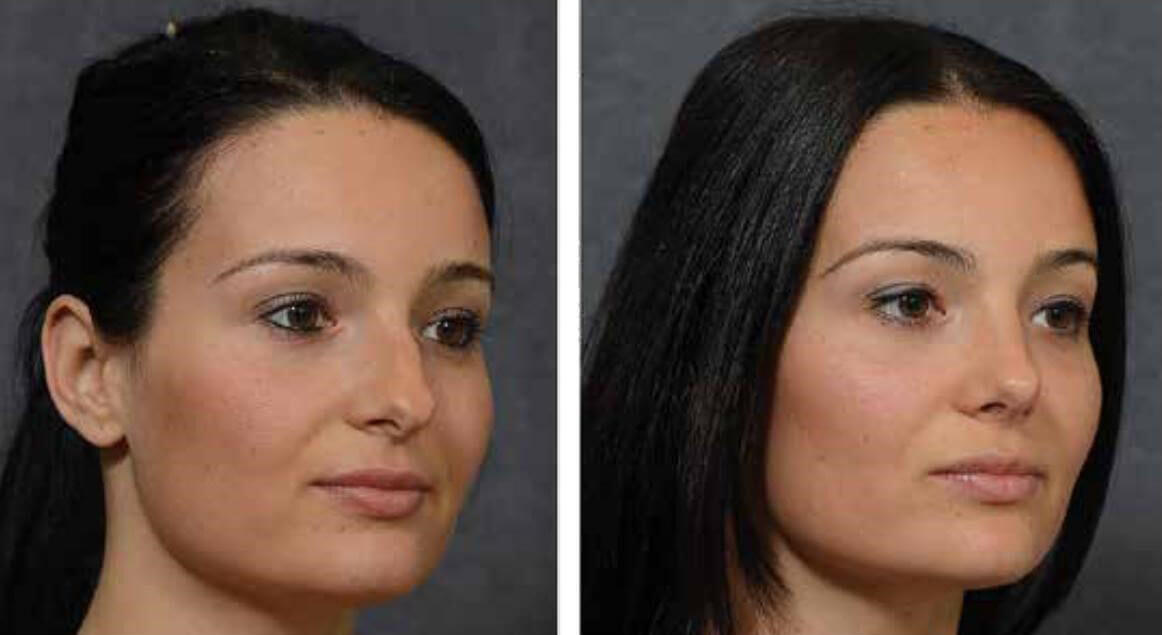 Rhinoplasty has become increasingly popular in 2017, both for cosmetic and therapeutic reasons. Regarded as one of the most challenging of all the cosmetic procedures it is one I myself most frequently perform. It is seen as challenging due to the myriad of issues the rhinoplasty surgeon has to resolve in any given case.
The surgeon must grapple not only with multiple types of structures be they bony, cartilaginous, soft tissue or even mucosa but also simultaneously with aesthetic as well as functional issues.
"Regarded as one of the most challenging of all the cosmetic procedures…"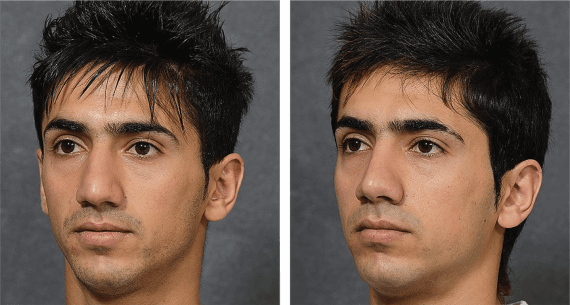 The aesthetic issues are complex enough in trying to make a nose that fits in proportionally and aesthetically with all the other features of the face, but the function relative to the sinuses and breathing must also be taken into consideration. These may not be readily in accord with the aesthetic plan.
"I have been performing rhinoplasty surgery for over thirty years and it is one of my most frequently performed procedures."
Injury may also be a factor
To further complicate issues, many patients seeking rhinoplasty have sustained trauma to their nose either through playing sport or via accident or injury; dealing with these compromised tissues adds another layer of difficulty. With all of this, it is not surprising that one can only really become a mature rhinoplasty surgeon after having performed hundreds if not thousands of cases.
The reason why you should trust me with your nose
I have been performing rhinoplasty surgery for over thirty years and it is one of my most frequently performed procedures.
I have been honoured to be one of only two Australians to be a member of The Rhinoplasty Society, an international group which requires proof of experience and expertise in the field to gain admission. Furthermore, this year alone two of my articles on rhinoplasty will appear in major peer reviewed international aesthetic surgical journals
"International recognition of my expertise is your proof"
I have just been invited to join the editorial board of the journal Aesthetic Plastic Surgery. This is a great honour for me which comes with the responsibility of reviewing articles written by my peers on several subjects.
Areas in which I have been regarded internationally as an expert include: facelifting, rhinoplasty, labiaplasty, chest wall and body implants as well as the psychological and social aspects of cosmetic surgery.
A letter from Dr. Hodgkinson

2017 regulations bring changes to cosmetic surgery day facilities
The introduction of new regulations which mandate that from 3 March 2017 all
cosmetic surgery can only be carried out in fully licensed surgical facilities are welcomed
and long overdue.
Patients have been mortified to learn that until now, what they weren't being told is that
much of cosmetic surgery was taking place in unlicensed, unregulated facilities. That restaurants and day care centres have required licensing for years but that surgery could be carried out in facilities with no licensing or standards is hard to fathom.
The Double Bay Day Surgery has always been a fully licensed and accredited day surgery centre, licensed to perform surgery under both local and general anaesthetic. Our Day Surgery offers the most up to date equipment with our staff fully experienced in preoperative, intra-operative and post-operative management of the many advanced cosmetic surgical procedures. In particular, I perform face lifting, rhinoplasty, blepharoplasty, all types of breast surgery, tummy tucks, and large volume liposuction as well as many other cosmetic & plastic surgical procedures. Our impeccable record continues to meet and exceed benchmarks for the industry both in Australia and from I understand from my many visiting overseas plastic surgeons, for the industry worldwide as well.
Level playing field at last
At last there is a level playing field which puts the safety of the public first. The cost cutting offered by many surgeons who previously performed this surgery in unlicensed facilities were often corner cutting in terms of safety. Sadly, the cut corners led to dangerous patient outcomes which in turn were picked up by the press which have led to this change. The industry which grew faster than it could be regulated is now being reigned in and these controls and requirements will be for the better.
Facelifting in 2017
By Dr Darryl Hodgkinson
Dr Hodgkinson discusses his techniques, recent publications, speaking engagements and commitment to his patients.
I have continued to refine my technique for face and neck lifting in an attempt to create ever more natural results. The biggest change is probably the redefinition of what constitutes the aesthetic area of the neck.
Jowels, "turkey neck" and horizontal rings
Decades ago, most facelifts were skin lifts.  Then came the deep plane facelift which addressed the jowels but the neck was still left as a tell-tale sign of ageing.  The next step was to address the sub-mental area or "turkey neck" but this still left the horizontal rings around the neck that are often used in Asian sculpture to denote old age.
My latest techniques emphasise the neck area
What I have been spearheading and pioneering are techniques that treat the area from the jawline down to the collar bones as the aesthetic area of the neck. Only with this in mind, and in conjunction with proper facelifting techniques which address all the aesthetic areas of ageing, does a surgeon finally begin to get true rejuvenation and a genuine overall natural look.
Presentation of techniques at international conferences
Last year I presented papers on face and necklifting around the
world at prestigious meetings of my surgical peers. This has led to more invitations and this year I will be travelling to and speaking at two European meetings in Amsterdam and Stockholm where I am an invited member of the faculty for the Swedish National Society. I will also be presenting my work on facelifting to an international society in Queenstown, New Zealand in April.
"There is no substitute for the years of experience that a surgeon gains after they have their qualifications."
My patients always come first, so I am never away more than two weeks
I try not to be absent from my practice for more than two weeks at a time. I reassure patients that they are always covered by my experienced nursing staff and on call doctor. We also have surgeons that have previously worked under my supervision that are available if there are any issues that need to be addressed.
Essential to keep my practice current
Keeping current in my practice has been essential to me ever since I started practice over 30 years ago.I continue to keep up with the literature through contributing to the literature with chapters in books as well as scientific journal articles.
I share my results at international meetings and test my results against other plastic surgeons from around the world. This process allows me to provide the best possible results for my patients.
Summer Safety
Skin Cancer Concerns?
It has been a long hot summer and I have seen several patients with skin cancers that I have had to surgically repair after removing the cancer.
In the upcoming months, it is a good idea for patients to check in with us to see what skin damage they may really have. I can treat any Actinic lesions caused by sun exposure with cryotherapy or laser treatments.
When dealing with skin cancer, it's a lot better to be safe than sorry!
Injectables
We continue to offer a wide range of injectables and have done so for over 20 years. As an adjunct of surgery and not a substitute they are most beneficial in the late 20's to 50-year-old age group.
Botox continues to be the safe option for forehead and wrinkles around the eyes. Debbie my registered nurse and injector for over 4 years is also my theatre nurse and has just recently attended an advanced 2 day workshop on the most recent, up to date
techniques and injectables.Her comment was there was very little new in the field, this just reinforced the fact that we have made a great commitment to staying up to date with new injectable treatments.
Operation Restore Hope expands collaboration
Operation Restore Hope has established an exciting new collaboration with the Las Piñas City Medical Center in Manila which will see us working together to perform charity surgery, especially cleft lip and palate, over the next 10 years and hopefully beyond.
We recently reviewed over 50 patients and scheduled nearly 40 patients at that hospital for surgery later this year. Our program is unique in that we are a community based initiative and we make a commitment to a community for 10 or even up to 20 years or more.
Operation Restore Hope has treated nearly 3,000 patients in its more than 20 year history in the Philippines and we collaborate with local surgeons, anaesthetists, dentists, nursing staff and administrative staff in screening and operating on these unfortunate underprivileged patients.
New collaboration in Zambia
Operation Restore Hope has also recently collaborated with 2nd Chance, a Swiss charity working to train plastic surgeons in southeast Africa. Dr Hodgkinson recently gave lectures and assisted in surgery in Lusaka, Zambia. Zambia, a country with a population of over 15 million people, has only one plastic surgeon, Dr Goran Jovic, who is a uniquely committed and talented surgeon in complex reconstructive surgery.